First some concepts
HTML5 Canvas
A tag that lets you draw in pixels using JavaScript. The canvas is a like a picture (a grid of pixels) that you can paint with JS commands. It is 2D and flat, it has no layers. You give the illusions of stacking objects by redrawing and rearanging the pixels.
Sprite
A reusable graphic object used in a program that can be moved and manipulated. If you remember from another project, a sprite sheet is a sheet of sprites. Everything visual in a game or other program can be called a sprite. In this game we will use sprites to paint our game objects on the canvas: player, goodies, etc.
Object
A programming concept for the logical organization of variables and functions in a program. This program uses objects very superficially, but it is a good idea for you to know what an object is in programming. Remember that variables are containers of values, functions are containers of commands and variables. Objects are containers of variables and functions. (This is a carricature, it is slightly more complex than this.)
User input: keyboard
To let the user control the program with the keyboard, you must test for the individual keys, each key has a unique ID. When any key is pressed, an event is triggered. You must validate which key is pressed to determine the action. In this tutorial, we use the arrow keys.
User input: touch
The game also uses the touch event for mobile control. This works by identifying the target object that triggers the touch event. This object becomes a control button, if you will. In this tutorial, there are four such 'buttons' on each side of the canvas. These can be used to play the game on mobile.
Game loop
This is what makes the game move. It is a function called at a certain interval. You will use this loop to change the parameters of the display, and to repaint the canvas. In our case we will use a JS command called requestAnimationFrame() to do this.
Collision test
This is usually a test to see whether two sprites come in contact. In other words, check if they share an area of the program's drawing board. This tutorial uses a basic collision test function. This function can be reused, if you ever need one for another project.
IMPORTANT NOTES
Download the files package for this tutorial here. The package contains the following files.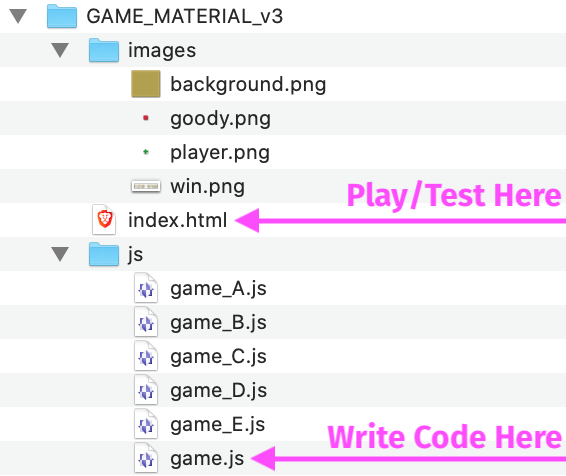 I provide the HTML base file (index.html) as well as the pictures (in the images/ folder). Have a look at the HTML and CSS to make sure you understand how it is built and how elements are used. For example, the touch buttons are invisible, but they are there; their properties are clear in the css.
All the code in this tutorial is JavaScript. You need to write this code in a file called game.js inside the js/ folder. This file is empty in the package, use it.
I have included every development state as a separate file as well. Refer to these files in the js/ folder if you are not sure what the program should look like while you work.
The order of the code is important. I indicate in the instructions where to insert the different parts, so pay attention.
Technically, you do not need to include the comment lines in your game code. But it is of course a good idea to do so. It will make your program more readable, and easier to update into a finished game after you complete the tutorial.
You can test the mobile touch interface using Chrome's developer tools. Or you can of course use your phone. But I find it easier to test on the computer while I develop.
You will find a finished game here. The goal of the game is to grab the goodies. Your player (green circle) must move to collect all three goodie (red squares) for you to win. Of course this is basic. But building this will teach you some elements of game programming. You will be able to build almost any game or complex app from this very basic system.
The tutorial is separated in 5 steps I call States. Each state builds parts of the system. At the end of each state, you can test your game. Many parts need to be rewritten as you move from state to state. Pay attention to my instructions, they tell you where to write each piece of code, and what to replace or change.
Now, let's build a game!